Students must install DUO Security for off campus access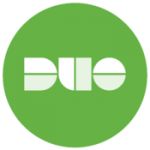 What is Duo Security?
Duo Security is a cloud-based software service that is now required to access your Bloomsburg University accounts from off campus. DUO security is a form of two-factor authentication that ensures secure access to services and data at Bloomsburg University.
What is two-factor autthentication?
Two-factor authentication provides a second layer of security requiring extra information or a physical device to log in, in addition to your password By requiring two different channels of authentication, we can protect user logins from remote attacks that may exploit stolen usernames and passwords.
DUO mobile and DUO Push
Duo Mobile is Duo Security's free app that allows you to quickly and easily approve a second-factor authentication request using Duo Push.

First install the DUO mobile app on your smartphone by scanning the appropriate QR code.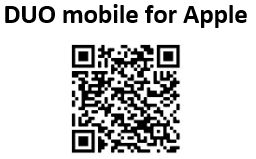 After the DUO app is installed, procede to the DUO enrollment process. This can be done from a computer or your smartphone.
To enroll DUO at Bloom U (or Commonwealth U) from your computer -->Click here
To enroll from your smartphone scan the QR code below
&nbsp