iPhones & MacBooks
Make sure you're not having account issues first. To test, login to webmail via Student Webmail (Online) (webmail.commonwealthu.edu). If you cannot successfully login, go to the Staff/Faculty Help Desk located in Ben Franklin Hall to have your account looked at. Front entrance, up the steps and straight ahead. Can also call Mon - Thursday 8am - 7pm and Friday 8am - 430pm 570-389- 4357
NOTE: The above tool is not an app it is a script that runs. Therefore, once it runs you should see a "Success" window when complete. At this point, go to MS Office 365 and login with your Bloom U account.
Authentication cleanups. Delete all cache in all browsers, remove all keychains. Both of these can hold outdated authentication info. Remove Keychains Info
Outlook logon issues?... reset your account in the Outlook account settings
Open Outlook - open Outlook preferences (from upper left of screen) - open Accounts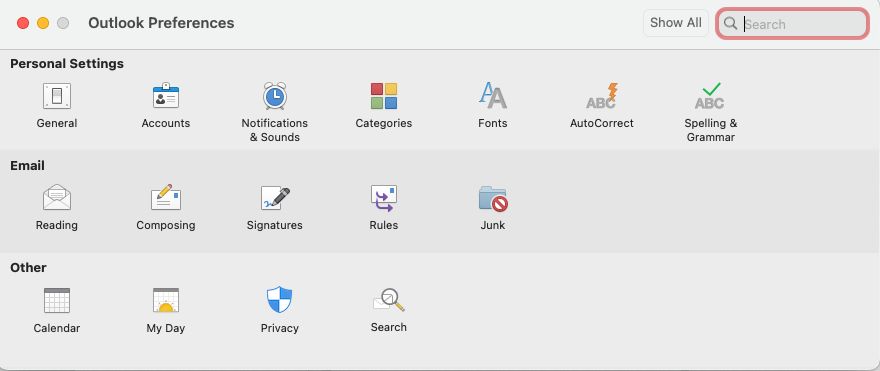 If Outlook is still not working--> Uninstall and reinstall the Outlook app (via MS Office 365 previous page) and sign in.
OneDrive not working --> To eliminate suspect account issues logon to OneDrive Online -->OneDrive Online If successfully logged on and all your files are there, your account is fine and the OneDrive app likely need a uninstall and reinstall (install on previous page).
Try switching or adding another account:
While logged into MS Office Online, click on your account (in upper right corner) and then "Switch Account" or "Add Another Account" (this location is the same in all Office 365 apps). Sign back in user your student ID with @commonwealthu.edu instead of @huskies.bloomu.edu. This seems to re-authenticate your account with MS Office 365.