MacBook MS Office login and activation errors
Before proceeding with MS Office 365 login and activation troubleshooting steps, verify you're not having account issues by logging into the:Office 365 Portal (Office.com)
If you cannot successfully login, go to the Staff/Faculty Help Desk located in Ben Franklin Hall to have your account looked at. Front entrance, up the steps and straight ahead.
Can also call Mon - Thurs 8 - 7pm and Fri 8 - 430pm 570-389- 4357
NOTE: New installs of MS Office 365 for Mac requires macOS Big Sur 11 or later. Make sure your MacBook OS is up-to-date.
Sign out of all devices
Login to MS Office 365 web apps -->MS Office 365 Online(login from the upper right corner)
click on your account, then "View account"
under your account section click "Sign out everywhere"
then open the locally installed app having authentication issues (Word, Excel, PowerPoint etc)
login to authenticate
if still having issues, continue to system cleanup solutions below
Make sure MS Office apps are not running
Troubleshooting login and activation issues while MS Office apps are running can prevent login and activation since stored memory info while apps are running can be re-written to files assocated with MS Office licensing. For all MS Office apps running, right-click on the icon then Quit on the icon. NOTE: any apps actively running will have a dot beneath the icon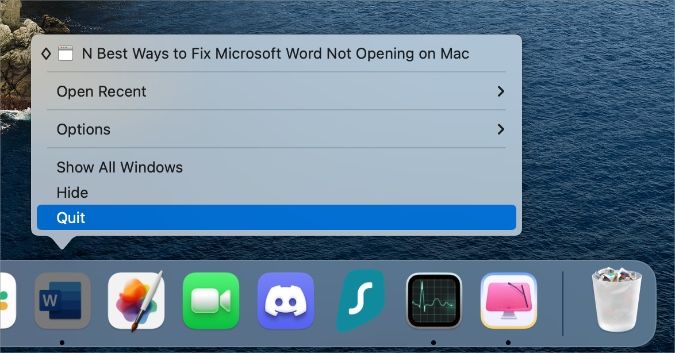 MS Office License Removal Tool
Microsoft provides a cleanup tool for MS Office 365 authentication and activation issues. Run this to help cleanup files associated with login and activation errors.
MS Office License Removal Tool> right-click > Open to run. (or Control + Click on Setup - to avoid getting an "unidentified developer" error)

Follow the onscreen setup instructions (below) to deregister your Mac from the old BU Office license to the new Commonwealth U license.
From the Introduction/Warning page, click Continue
From the Standard Install/Installation Type page, click Install
From the Installation page click on "Use Password" and enter your Macbook administrative password to run the script
Once the script is complete/runs, Restart your Mac, open MS Office and Register/Activate your MS Office with your University email address.
Removing Keychains associated with Office 365
Delete Keychains. Keychains hold app authentication files that could be outdated, corrupt, etc. Therefore, deleting keychains and re-authenticating MS Office logins create new keychains with correct/updated files.

To delete keychains click Go > Utilities > open Keychain Access. Search for keychains that contain any of the following then right-click > delete for each file:
Manually Delete MS Office Licensing Files
Do the following steps to find and delete MS Office licensing files the could hold corrupt/outdated information.
Click Go > Go to Folder
Search for the /Libraryfolder
Open sub-folder /Group Containers and drag the follow to the Trash Bin
UBF8T346G9.ms
UBF8T346G9.Office
UBF8T346G9.OfficeOsfWebHost
Open subfolder, LauchDaemons If the LaunchDaemons folder contains the file com.microsoft.office.licensingV2.helper.plist drag to the Trash Bin
Open sub-folder /Preferences and drag the follow to the Trash Bin.
com.microsoft.office.licensingV2.Backup
com.microsoft.office.licensingV2.plist
com.microsoft.office.licensingV2.plist.bak
Open sub-folder /PriviledgedHelperTools and find com.microsoft.office.licensingV2.helper.plist and drag to Trash Bin
When all the above files are move to Trash , right-click Trash > Empty Trash
Delete Browser History (cache)
In addition to deleting keychains, delete cache from all browsers (Sarfari, Chrome, etc). Like keychains, browsers can hold corrupt and outdated authentication files prohibiting successful logins.
Re-install MS Office 365 (from www.office.com)
If the above solutions are not working, remove (Move to Trash) all MS Office apps (Word, PowerPoint, Excel, Outlook & OneDrive), and Empty Trash.
Then re-install MS Office 365
Login to Office.com
from the upper right corner click on settings
then click on "Install Apps" and select MS Office 365
open the dowloaded file (once download is complete) to install
once installed make sure you can successfully login
Outlook account setup on Macbooks
Click Outlook > Preferences.
Click Accounts.
Click New Account.
Tap Exchange and enter your email address, password, and an optional description > Tap Next
Reset your account in settings
In Outlook, go to Tools > Accounts. In the left pane, select the account you want to reset. On the bottom left, click the three dots and select Reset Account from the list.
OneDrive
To rule out suspect account issues make sure you can logon to OneDrive Online -->OneDrive Online
If successfully logged on you should see all your files online and your account is fine. To get the OneDrive desktop app working again uninstall and reinstall from the Apps Store.
Backing up Files, wiping and reinstalling OSx
Before starting over, first backup all your files using --> Time Machine Then following instructions for reinstalling your Mac OSx --> Mac OSx Install